'Vanishing Point', 24"x24" oil on canvas
In Cape Cod looking along the shoreline as the tide rolls in and the sand disappears below the surf.
'Morning Mist', 24"x24" oil on canvas
Before the ocean seas horizon,a lone sail boat drifts, as the sun burns off the morning fog.
'Days End', 24"x24" oil on canvas
As the sun sets upon the Atlantic coast, the towns silhouette appears and a lone fisherman reels in his catch of the day.
'Race Point', 24"x24: oil on canvas
A gentle rise in the sand, a seperation in the shrubs, a path to the edge of a bluff that over looks the Atlantic across to sandbar where Race Point Light is a beacon, not just for ships, but the whales that are there to feed.
'On the Rocks', 24"x24" oil on canvas
On the east coast on these rocky shores of the Atlantic stands this beacon of hope to travelers.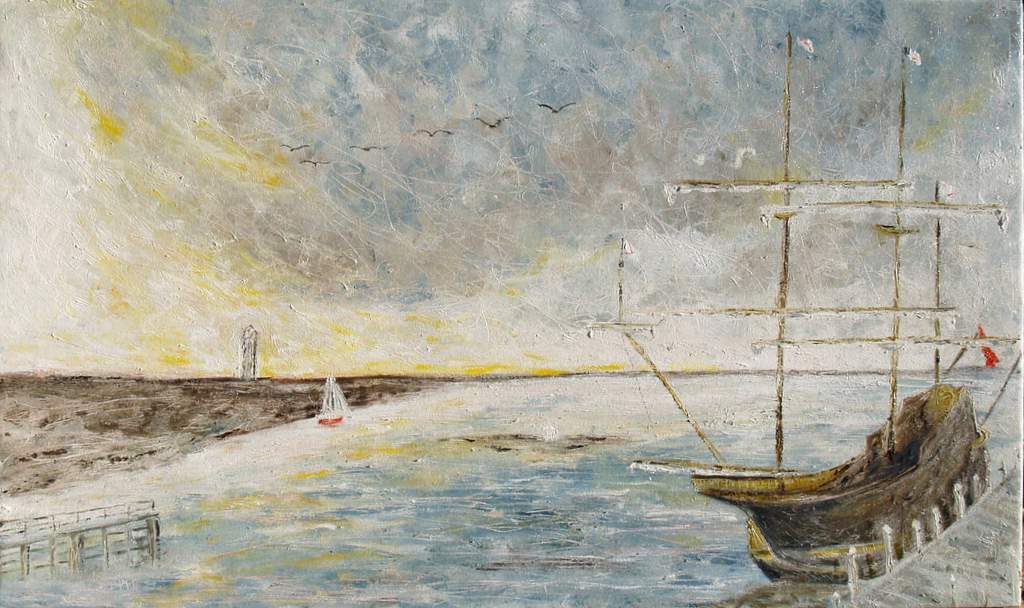 'Migration', 48"x28.5" oil on canvas
Two years ago we were in St Augustine Florida and they were celebrating 450 years of history, when I took a reference photo to do this painting. It is the oldest european settled town in the country. It was settled initially by the Spanish. Most if not all of us (our ancestors) immigrated here at some point. This is indeed what made and continues to make our country great!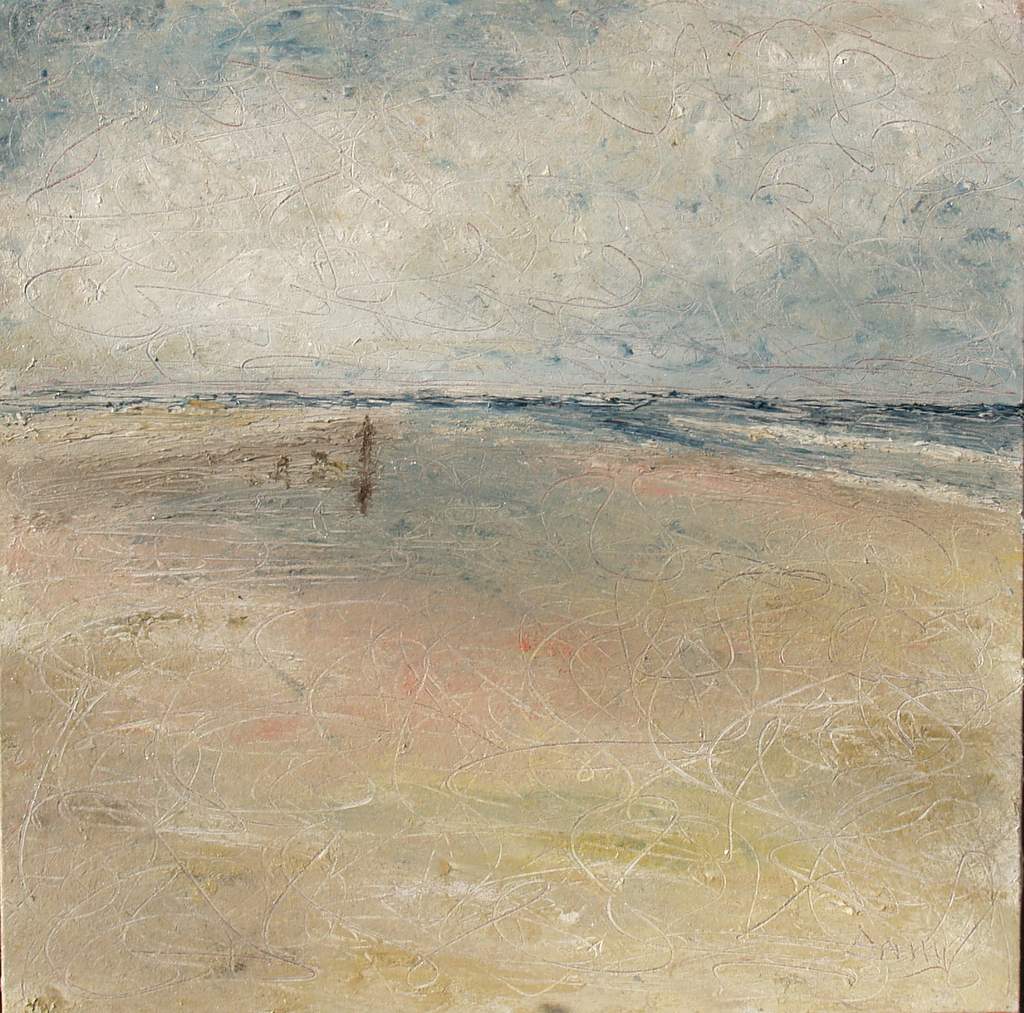 'Walking the Beach', 24"x24" oil on canvas
An overcast day, walking the pups on the beach, a small pool of water stands still and is reflecting the figures, whos cares have went out with the tide.
'Surfs Up', 36"x36" oil on canavs
A cool suuny day, January in St. Augustine Florida. This can be any beach where nothing stops the thrill seeker and adventerous.
'The Windy', 18"x18" oil on canvas
The Chicago Lighthouse on Lake Michigan, where tall ship, 'The Windy' sets sail for yet another adventure.
'Meditations on Flight', 36"x36" oil on canvas
A cool but balmy morning in St Augustine, Florida, these gulls are in flight formation for destinations unkown.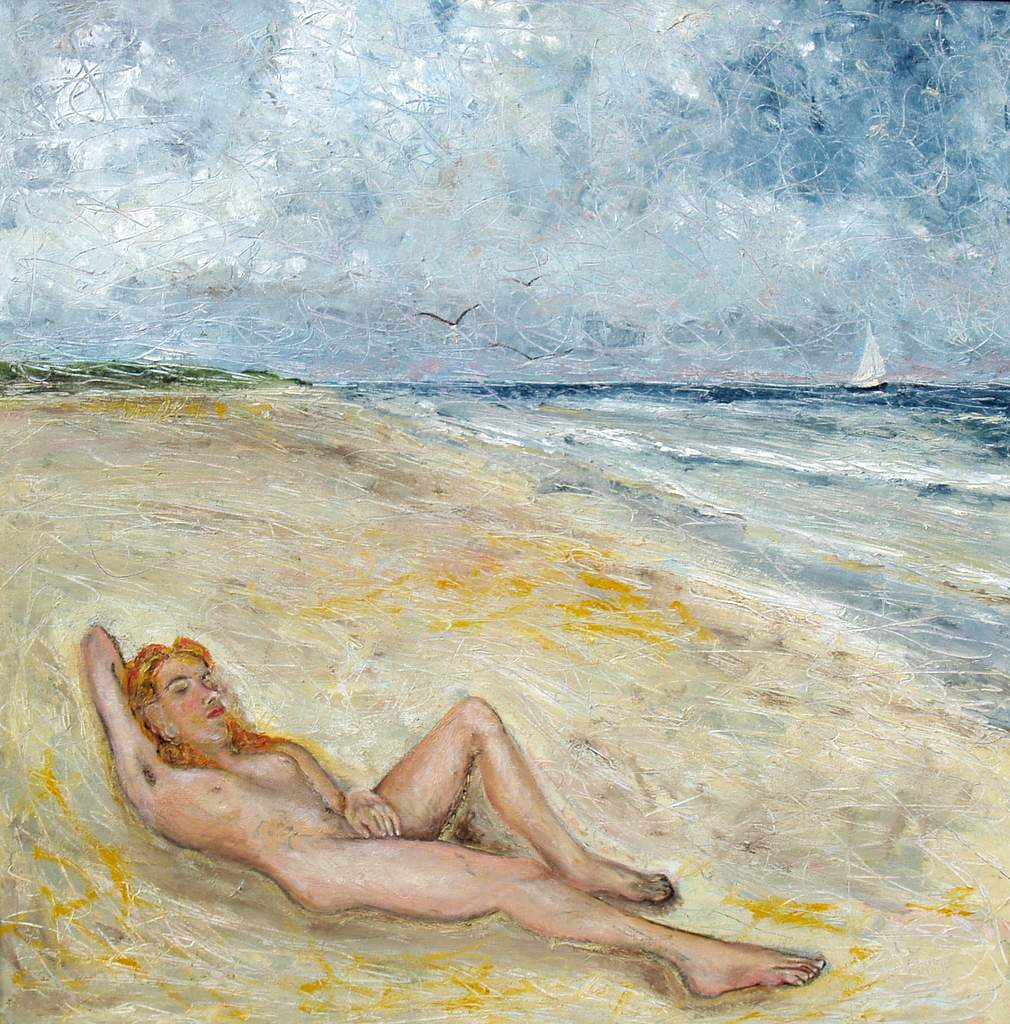 'Lemme' Take You to the Beach', 36"x36" oil on canvas
A friend modeled for this piece, where freedoms are expressed in relation to a trip out east in Ptown.
'Behold the Dusk', 36"x36" oil on canvas
A hot summer days end, the rolling of the tide, light reflects off the surface or is it an Abstract with a horizon line? You to decide.
'Blue Haze' 24"x24" oil on canvas (On exhibition 'BLUE' at Jackson Junge Gallery 1389 N Milwaukee Avenue Chicago, Illinois 60622 from Sept. 20 -Oct. 20 2019)
Over the Atlantic two birds fly across the sky, high above the rolling sea, in a vast endless 'Blue Haze' while a lone boat sails on.
'The Cove', 18"x18" oil on canavs
It's early spring and another day's closing. Will their be a tomorrow and what will it bring? Breath it all in and be here for it.
'Tides', 18"x18" oil on canvas
St. Augustine, Florida where the North Atlantic Right Whale calving grounds are and many species of sea turtles nest. It's a new day and all things are possible.
'Horizons', 12'x12" oil on canvas
One persons sunrise is anothers sunset. One persons seascape is anothers abstract.
'Morning Glow', 36"x36" oil on canvas
A foggy morning walk, the sky, sand and sea merge and the couple disaapear over the horizon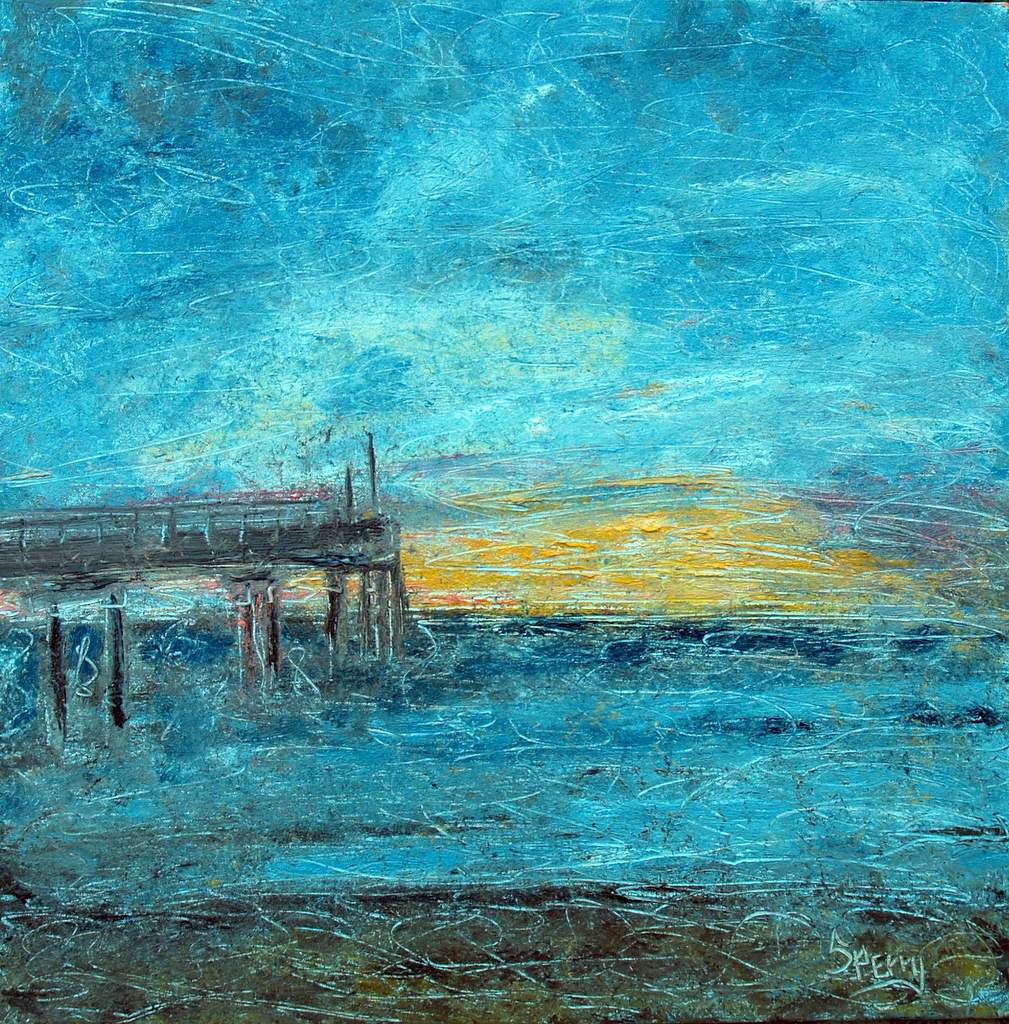 'End of the Pier', 24"x24" oil on canvas
St. Augustine, Florida, where whale and sea turtle are born. Stay here high upon the pier and you may just be lucky enough to see one pass by.
'Morning Flicker', 24"x24" oil on canvas
Watching the sun rise over the Atlantic. There's no better way to start the day.
'The Whale Watcher', 18"x18" oil on canvas
Spring 2017~ We were out east on Cape Cod to do some whale watching and see the endangered North Atlantic Right Whale. The ocean was teaming with an abundance of food and sea life, it was amazing. These majestic giants are at a cusp of survival. On our way back we stopped at Nauset beach, where I saw this person sitting on a rock, staring out at the sea, hoping to catch a glimpse of this vanishing creature. A serene and pensive moment.
'Hovering Cormorant', 36"x36" oil on canvas
Blue on blue, a monocromatic study of the sky, sand and sea with a single bird skimming and reflecting off the surface.
'Meditations on Love #1' 18"x8" oil on canvas
Sold~Love, loss and grief, the memories are with us in many forms.
'A Meditation', 36"x36" oil on canvas
Inspired by the ocean, beach and sky, but is it a seascape or an abstract? Well that's for you to decide. A gentle, serene and peacful piece and place, to be sure.
'Strangers in the Fog', 24"x24" oil on canvas.
First light of the day, a heavy fog, a salty mist sprays off the ocean, a gulls voice echoes and the two figures meet or do they simply pass each other by.
'Boy at the Beach', 30"x20" ol on canvas
SOLD~Saw this scene and it brought back memories. A summer day, all the wonder of the ocean, the beach, the possibilties and what I could create, with just a bucket and shovel inspired by the world around me...my imagination.
'Meditations on Love #2', 18"x18" oil on canvas
Imagine walking along the Atlantic coast, nothing but the morning light, the sound of the surf, the salty mist and a lone seagull squacks out a single note.
'Sunbather', 13.5"x6.5" oil on canvas
A sunny spring day at the beach. Listen carefully to the sounds: ocean waves, the wind, and the birds above.
'Evening Tide', 36"x36" oil on canvas
End of the day, where shadow and light meet.
'Ptown at a Glance', 30"x30" oil on canvas
Several miles out of town, on a sunny day, when the tides out, here's what can be seen looking along the peninsulas end. The pilgrim monument towers over Ptown, as a symbol of freedom sought as it was when it was first colonized.
'Study of the Morning Star', 12"x12" oil on canvas
SOLD~Beyond the dunes silhouette, a horizon line, and the morning sun burst with all things possible.
'Summer Heat', 24"x24" oil on canvas
The Atlantic ocean and sky as the sun begins to set on a steamy day or elements of design; point,line, shape, form, space, color and texture, you decide.
'Flight of the Brown Pelican', 12"x12" oil on canvas
At days end, in St Augustine, Florida, several Brown Pelicans fly along the ocean shores. Break it down in to its essential design elements, an abstract or perhaps a hidden message, uncoded.
'Flock of Seagulls', 36"x36" oil on canvas
Sunrises over the Atlantic and a large 'Flock of Seagulls' pass overhead. A good day.
'Rolling with the Tide', 18"x18" oil on canvas
The day begins or perhaps is ending, the tide rolls in and rolls out, today is another day.
SOLD 'At the Pond', 24"x20" oil on canvas
This is the fifth season these wonderful birds have visited the pond behind our home. A mated pair of Sand Hill Cranes come every spring, have 1 or 2 chicks and raise them over the season. We've become quite familar with them, photograph them often and they seem like family at this point. This time of year they begin their flight training, for their migration south, until hopefully they return for yet another season.
'Chicago Is', 48"x36", oil on canvas
Chicago has a Tall Ships event, off Navy Pier, regularly and it's very own 'The Windy' that tours the Chicago, Lake Michigan area giving historical tours. On one occasion I was out on 'The Windy' and captured several images ship to shore the Sears/Willis tower to John Hancock, with Chicago Lighthouse in the foregroundand Navy Pier off to the right. 'Chicago Is' my kind of town.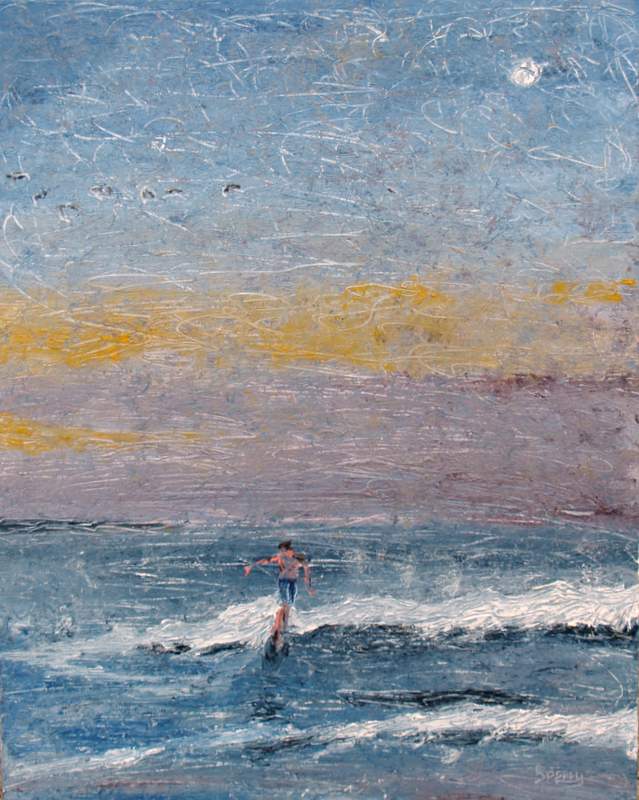 'Moonlight Surfer', 16"x20" oil on board
Off the coast of St. Augustine, Florida, in the Atlantic ocean there's an evolving dedicated group of surfers. Combing the beaches, you can find them just before sinrise until right after sundown when surfs up, they're catching a wave. This surfer was catching his final wave of the day.
'Green Surf Board', 20"x16" oil on board
All the anticipation and hopes of catching that ultimate wave and riding it, but alas the surfs have subsided. The tides are rolling out and he'll try again tomorrow.
Good Day Sunshine, 16"x20", oil on board
What sometimes looks to be the sun setting is really the sun rising. The day opens and it closes, one on to the other, just be there for it and take it all in.
'Daydreamer', 20"x16" oil on board
The warmth of the sun, a light breeze, the salt of the ocean mist, the sound of waves rolling in on the beach, he's lost in thought and daydreaming of some great discovery that his days explorations have revealed. Then a voice calls out, it's his mother and today, in this moment, all is well with the world.
'Light & Sahdow', 12"x24" oil
A simplified and direct approach, conveying an ethereal silhouette, as the sun beams across the ocean casting a shadow on the sand.
'Let's Go Swimming' 12"x24" oil
Rushing down the beach, he waits in quiet anticipation. But hurry now, time is fleeting.
Finding His Wings, 20"x20" oil
Out at the beach on the Atlantic Coast, just taking it all in, the sights, sounds, smells, and thoughts. A gull lifts off and I remember a story from when I was growing up, "Johnathon Livingston Seagull," I presume and am inspired.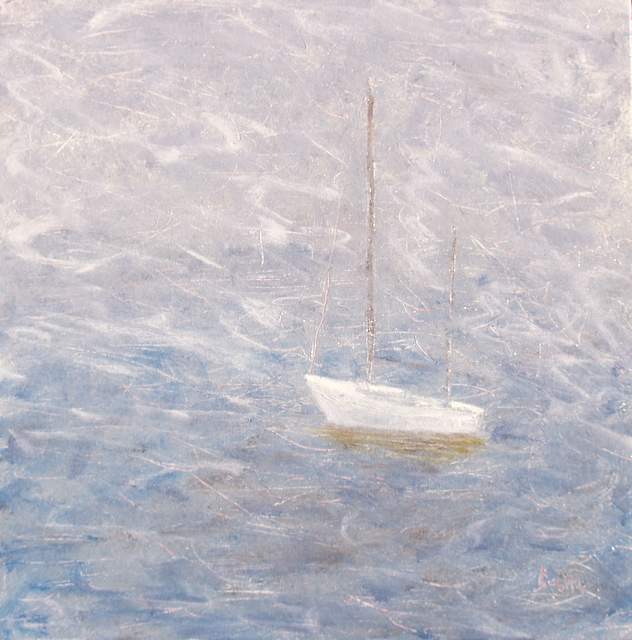 Adrift, 20"x20" oil on canvas
A dense fog engulfs all land, water and sky are bearly disguishable and a lone boat, bob's gently in the sea as the sun disappears somewhere in the mist. Alone, a sense of Isolation begins to set in, but you are present and realize you are connected to the ubiquitous all.
'Passing Brant Light, Nantucket', 20"x20" oil on canvas
We left Hyannis on the Cape, upon the Steam Ship Authority, car, dogs and ourselves all aboard, headed toward Nantucket island. The seas were slightly choppy and a light drizzle fell as our 2 hour tour ended pulling into the harbor. The rain stopped, clouds began to disapate and as we got closer the shoreline full of houses , sail boats leaving the harbor appeared, and Brant light circa 1746, stands as sentry to welcome us our arrival.
'Waiting', 12"x24" oil on canvas
The Atlantic coast, St. Augustine Florida, the beach is marked North Atlantic Right Whales and a variety of endangered sea turtle migrate, and populate along this area. It's also an area where you can catch a wave when the tides swell. This surfer stands looking out into the vast sea searching for a wave or maybe something else, you decide.
'Beach Hut', 18"x18" oil on canavs
Out at the very tip of Cape Cod, at Race Point, you can sit for hours taking in the sun, the sand & the sea, most times I've been out there you can see pods of whales from shore as they pass by feeding.
'A Walk on the Beach', 18"x14" oil on canvas
Last year, April 2017, during a road trip we stopped off at Nauset Beach on the Cape. There was an elderly woman sitting on a giant slap rock on the beach. I did a painting of her gazing out upon the sea, entitled 'The Whale Watcher'. This year, May 2018, we stopped off again and there she was, only this time she had already enjoyed her time on the beach and had begun her ascent , walking back up the trail, to the cliffs that oversee this area, the beach, the vast ocean & sky. Just another day in her life, but a moment captured for me.
'Rooftops of Nantucket', 18"x18" oil on canvas
An amazing veiw from cupola to deck, atop the whale museum, on Nantucket. A foggy and misty day, the grey day seemed well suited to the buildings and homes, 100, 200 years or older on this spring day.
'Serenity', 24"x18" oil on canvas
Out at the point, just hours before dusk, a peaceful moment captured, as the tide gently covers the beach, clouds are still, a slight fog bank rolls in off the ocean and several cormorants fly along the shore line.
'Island Light', 20"x20" oil on canvas
Exploring Nantucket island, Brant Light still stands as one of the oldest harbor sentries in the country. Just off Cape Cod, I imagine, days gone by when the harbor was full of tall ships and whalers. Now the lighthouse stands as a beacon to our nations history and a welcome sign for those who dare to explore and discover it.
'Morning Light', 20"x20" oil on canvas
About 6am at St. Augustine Beach, off the Atlantic Coast, a cruise ship passes the horizon and a small flock of pelicans are out in search of breakfast. An amazing and abundant amount of colors flicker, dance in my eyes, and the day begins.
'Along Gitche Gumee', 40"x40" mixed media on canvas
We discovered this place, for ourselves, over 15 years ago, on a Lake Michigan Circle Tour. Once we arrived at north end of the lake we decided to drive across the U.P. There we found the Picture Rock National Shores, between Munising and Grand Marais, 'Along Gitche Gumee', that's Lake Superior to you and me. It's translation from its Ojibwe Indian name, means "the shining blue sea water." It quickly became a favorite place to go to, toward the end of summer when it hosts an art & music festival. So much beauty, so little time.
'Kayakers at Miners Beach', 18"x14" oil on canvas
Between the 50 mile stretch, from Munising to Grand Marais, MI, along the Picture Rock National Shores, the many hiking trails lead to an abundance of, forest, falls, cliffs & beaches. One such area and adventure has 'Kayakers at Miners Beach'. I've been painting this are for over 15 years now.
'Superior, Inland Sea' 40"x40" oil on canvas
On Lake Superior at Grand Marais, Michigan, the waters can become as violent as an oceans and fits the criteria for being a sea, except it is not a salt water body. One evening we went out to the edge of the pennisula to watch a storm roll in. The clouds were pitch black, the winds had picked up and the waters behind us were crazy turbulent. The clouds were moving fast, north toward us, but just before they reached us the blew off to the east, the rest of the evening was clear and the waters raged on, leaving me full of awe.
'Translations' 24"x18" oil on canvas
A day at a time, the sun rises and sets, be there for it. As an artist the medium is the message of our interpretations. We translate our visual and emotional response via the medium to convey our experience and to share it. For me there is nothing more sublime then a sunrise/sunset, one long meditative breath, inhalling deeply, exhaling slowly, in a heartbeat.
'Calm Harbor' 18"x18" oil
U.P. Michigan at Grand Marais on Lake Superior, there's a small protected harbor where by, as stormy as this body of water can be, this area is relatively safe. The morning broke after a storm and here's the calm.
Kiss the Sky 30"x30" oil
One time, about 5 years ago, I was out on a whale watch off the tip of Cape Cod. There was a pod of about 20-25 Humpback Whales. They are an especially smart and social specie of whale. They often, swim, feed, and breach in groups of three or so. On this occassion they were firing off and breaching, across the horizon, 10, 12 & 2 O'Clock, one after the other. This painting is based on my first photo capture of a whale breach and my excitment of being there.
Hang Ten, 24"x24" oil
As the day begins to come to a close, the tide swells, & one lone surfer slides in on wave to shore. St Augustine Beach Florida is a year round haven for beachcombers, sea turtles, North Atlantic Right Whale & surfer dudes, & dudettes catching a wave.
Quiet Harbor 24"x24" oil
About half way between St. Augustine Florida and the Kennedy Space Center along the eastern coast, we discovered this harbor. Late afternoon, when we arrived, it was teaming with exotic birds, dolphin & manatee. Toward the end of the day, as the sun began to set, all became quiet, as the hussle and bussel of the day, settled down ot this 'Quiet Harbor'.
Sea Turtle Surfacing, 18"x18" oil
It seems where ever we go, there they are, the sea turtle, a favorite of my sisters. A few years ago Cape Cod Harbor was teaming with an abundance of food, drawing an abundance of sea creatures to feed, even the sea turtle. St. Augustine Beach Florida is a nesting area for these creatures. Earlier this year, 2019, we were in Key West and stopped at the aquarium, where several of them have been rescued, rehabbed and set back to sea. This one had been rescued several times from ship strike & fishing lines. That kind of tenacity deserves recognition.
'Dune Crest' 18"x18" oil
High upon the dune crest in North Truro, Massachusetts you can see for miles and miles. Beyond the dunes, the shrubs, the road that leads to Ptown, the cottages, & the Atlantiic, the veiw, a scene awaits, while the fleeting light is captured in a moment, in our imagination.
Hope Floats 24"x24" oil on canvas
One evening, we ran down to the ocean to watch the sunset. Cause that's what one does, to catch it setting upon a vast horizon. In this case , it didn't so much dip below the horizon line as it sunk beneath the lavender haze , wafting up into the sky. A truly stunning color and light show to behold.