'The Conversation', 70"x40" mixed media on canvas
'The Conversation' is a mixed media extravaganza. With each medium, a new layer is used in the message thats being communicated. But what is the story being told? It's different for each person, to be sure.
Mediums used~(acrylic, oil, oil pastel, charcoal, 18k gold leaf & ebony pencil on 20oz, cotton duck canvas)
'Map of the Mind', 30"x30" mixed media on canvas
Where do our thoughts travel? Do we free associate our thoughts and knowledge or possibly is there a design more fractal with bits of chaos throw in for good measure.
'Touch of Night', 30"x15" mixed media on canvas
Like the night sky, looking out on the universe and all of creation with complete awe and wonderment. We connect the stars or dots and ask, why am I here? What is this all about?
SOLD 'Primary Changes', 30"x30" oil on canvas
The basics, yellow, blue and red, patterns within patterns are echoed.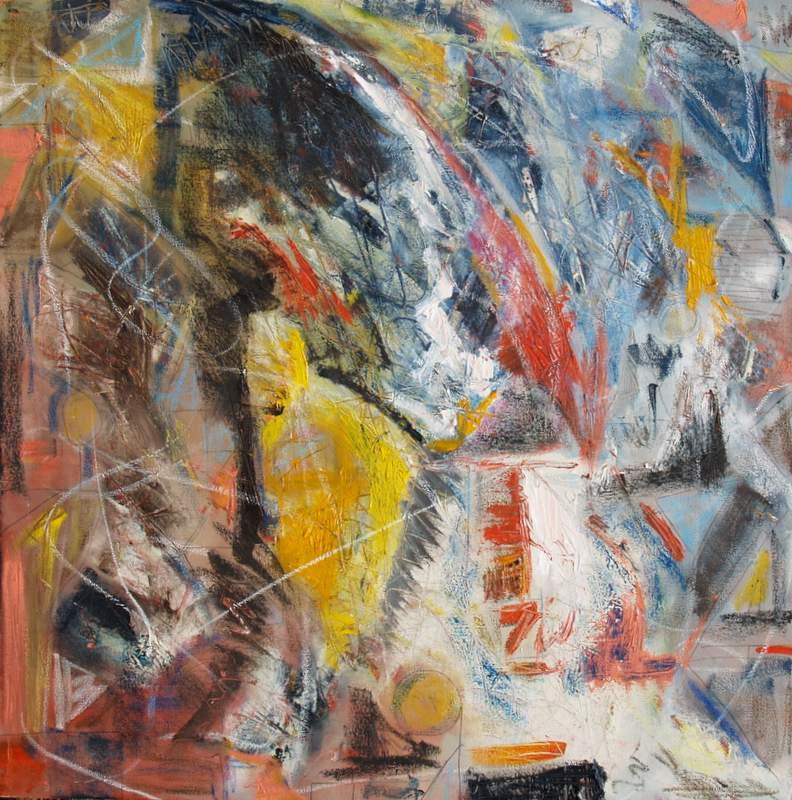 'Minds Eye', 24"x24" oil on canvas
How we see things, what we value, the enviornment we're raised in and their influences on our mind, body and soul, define our perceptions and perhaps our 'minds eye'.
'Stardust Origins in the Constellation of Love', 40"x40" mixed media on canvas
This subject and composition, are a dreamlike mixture of expressed human physical gesture, juxtaposed against a nightsky petroglyphs symbiotically, thus emerging from stardust.
A Timeless Beauty~tats, piercings and guages, it's a communal, yeah tribal thing. Just puttting yourself out there, complete, with raw, spontaneous and natural honesty. Now thats sexy!
'Eye Of The Fire', 30"x30" mixed media on canvas
Like the thin layers when peeling an onion, so are the layers of this mixed media abstract piece. While the mediums layered are acrylic, oil, oil pastel, charcoal, ebony pencil, 18K gold pen & leaf, so are the levels of meaning so layered. Seek to unravel the mystery within and find what you are seeking.
'Catharsis', 30"x30" mixed media on canvas
These pieces generally take months to build to completion. Their fnished state and appeal hinges entirely on my final emotional state or mood. I begin with one medium, and emotion and each time I come to the canvas, a new medium, emotion and layer are added to the complexity of life that I'm trying to convey on canvas. Toward the completion of this particuliar piece my overall emotional state, did a 180 and so there you have it. But what do you see, is the real question.
'Shadow Life', 15"x22" mixed media on board
All things that exist in the shadow, exist in the light, or do they. Shed a bit of light on the subject and see if they don't disappear or indeed, what remains.
Algorithms, 36"x18" mixed media
Life has its own set of 'Algorithms' , a process or set of rules to be followed in calculations or other problem-solving operations . Nature is fractal with sparatic moments of chaos changing those algorithims. We are here sharing the human universality of it all, as expressed in this artwork.
'ATM' 18"x36" mived media
An edgy & provocative figurative abstract, 'ATM' 18"x36" framed (gold & warm black floater frame) Mixed Media (acrylic, oil, ebony pencil, oil pastel & 18K gold)
Two figures in an intimate dance, but whats the meaning behind the dance? Only the two in it know and we can only observe & speculate from a distance.
Persistence of Time, 2"x24" mixed media
Everything or nothing at all, time is fleeting, crcuitous, a mobius strip flipped ubside down on itself , ever moving and still. It is present, tomorrow is our today, that is all. All the layers touch together in an instant and yet are seperate and individual. Time as we know it is a human construct to make a 3 minute egg and get you to work on time, nothing more. So than what is time if not persistant in its march?
Gray, Shades of Narcissist, 30"x30" mixed media
Gray~He was a hunter of sorts who loved everything beautiful. Narcissus was proud, in that he disdained those who loved him, wanting them to prove their devotion to his striking beauty. Narcissist is one who has a fixation with oneself and one's physical appearance or public perception. Once, during the summer, he was getting thirsty after hunting, and he was lured to a pool where he leaned upon the water and saw himself in the bloom of youth. Narcissus did not realize it was merely his own reflection and fell deeply in love with it, as if it were somebody else. Unable to leave the allure of his image, he eventually realized that his love could not be reciprocated and he melted away from the fire of passion burning inside him, eventually turning into a gold and white flower.
'True Colors' 30"x30" mixed media, acrylic, oil, oil pastel, ebony pencil and 18k gold leaf and paint.